What happens between application deadline and admissions results?
There are several steps and decisions that are made during the processing of your admissions application. Find out more about them - and what you can do after each one.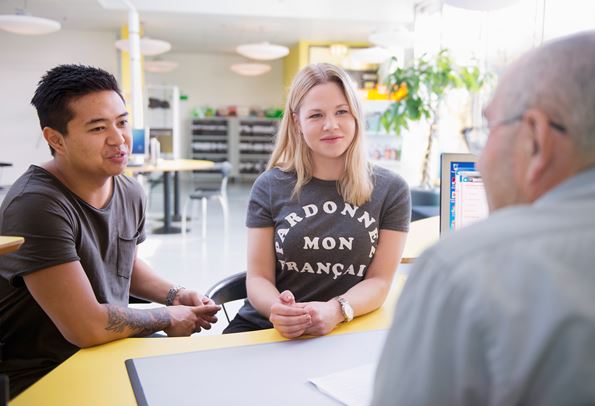 The first step in the application process is - of course - submitting your actual application and supporting documents. After that, your application is reviewed - with certain decisions made along the way.
The review process
Applications are reviewed from the time they're received until a few days before selection results are published. This means that University Admissions reviews applications from October to April for autumn semester start, and from June to October for a spring start.
Incomplete applications
During this process, admissions officers may send you a message requesting additional documentation. You should respond to any of these requests as soon as you receive them.
The application fee or fee-exempt documentation is important
Please note that your application won't be reviewed until:
the application fee is paid, or
proof of citizenship is submitted that you don't have to pay
What about late applications?
It's also important to know that late applications aren't reviewed until all the on-time applications have been processed. For the more popular courses and programmes, there are usually so many on-time applicants that late applications are never reviewed.
Most often, late applications aren't considered until after admissions results are published - and only if there are still places available.
Finding out if you're eligible
In order to study a course or programme, you must first meet the general and specific entry requirements. This is the first thing that's checked during your application review.
The status of your application will be updated in your account when all documents in your complete application have been submitted and reviewed. Remember that applications are reviewed right up until selection - your eligibility status might not be updated until then.
Eligibility requirements for bachelor's
Eligibility requirements for master's
Does meeting the requirements mean I have a place?
No, it doesn't. The first step in the review process is finding out if the applicant meets the eligibility requirements. But this is just the first step. In most cases, there are more applicants than places available. This means that a selection must take place. Applicants are put in a ranked order, according to the selection criteria for the course or programme.
The selection criteria could be grades, number of university credits, essays, etc. You can find out exactly what's required at the course/programme page on the university's website.
To sum it up - being eligible doesn't mean you've been awarded a place.
Selection and admissions results
Each application round has a specific date when admissions results will be published. A few days before this date, selection for the courses and programmes occurs. Applicants are ranked according to the selection criteria and can be offered a place, placed on a waiting list (reserve) or deleted.
The number of places offered and waiting list spots is determined by the university. It can be hard at this point to say if you'll be offered a place from the waiting list. There are many factors to be considered - the popularity of the course, how many people decided to accept their places, and your waiting list number.
Find out more about admissions results
Find out what the key dates are for your application round
Can I appeal or reapply to courses I'm not eligible for now?
No, you can't.
If you wish to appeal the decision that you're unqualified, you have to wait until you receive your official admissions notification. Only after the results have been published can you submit an appeal.
If you want to reapply for a course or programme that you aren't eligible for - but have documentation that you believe shows you are - you can't do so until after you've received your admissions notification. Only then can you reapply.
Find out more about reapplying
Last updated: 15 February 2023